Wheatgrass smoothie Shots
Our wheatgrass smoothie shots are made from the young leaves of wheat plants grown in Ireland and certified organic.
These young leaves are typically harvested when they are around 7 to 14 days old, at which point they are considered to be in their most nutrient-dense state.
To create our wheatgrass shots, the wheatgrass is juiced or blended to extract its liquid content. This juice is then consumed in small, concentrated quantities known as "shots." Wheatgrass is packed with vitamins, minerals and antioxidants. It is a great source of chlorophyll and fibre.
some Benefits Of Wheatgrass Smoothie Shots
100% natural.
They're rich in nutrients. Wheatgrass is touted as a source of vitamins, minerals, and antioxidants, including vitamins A, B-complex, C, and E, I and K, iron, magnesium.
They're extremely rich in protein.
They contain 17 amino acids.
They're a great source of chlorophyll, which is a powerful detoxifier and has been shown to boost the immune system.
They're a good source of fibre, which can help improve digestion and gut health.
They offer nutritional convenience. Wheatgrass shots offer a concentrated form of nutrients, making it convenient for individuals seeking a quick nutritional boost.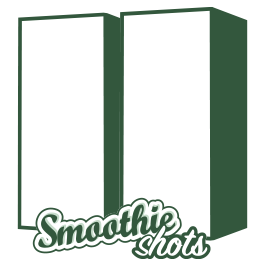 Frozen Wheatgrass SMOOTHIE Shots Retail Packs
The Frozen Wheatgrass Smoothie Shots are a concentrated source of nutrients. Our frozen wheatgrass shots come in packs of 7, to ensure you are set up and ready to face the world each week!
The frozen wheatgrass shot should be allowed to fully defrost before taking.
Available in packs of 7.
Trade packs are of 20.
FROZEN WHEATGRASS SMOOTHIE SHOT TRADE TUB
Nourish Your Body with Wheatgrass Smoothie Goodness
Unlock a world of goodness with our wheatgrass smoothies. These vibrant blends are not just tasty; they are a powerhouse of nutrients. Experience the natural vitality that comes with every sip of our carefully crafted wheatgrass smoothie combinations. Fuel your body with the incredible benefits of wheatgrass. Our wheatgrass smoothies are rich in vitamins, minerals, and antioxidants. From boosting your immune system to promoting digestion, each gulp is a step towards a healthier, happier you. Explore the refreshing taste that wellness brings.
Wheatgrass Smoothies for Weight Loss
Follow your weight loss journey with a delicious twist. Our wheatgrass smoothies are designed to support your goals with a blend of taste and nutrition. Savor the goodness without compromising on flavor as you work towards achieving your weight loss milestones.
For those following a keto lifestyle, our keto wheatgrass smoothie is a perfect fit. Enjoy the benefits of wheatgrass while staying true to your dietary choices. It's a flavorful and low-carb option that aligns with your keto goals.
Find a Wheatgrass Smoothie Near You
Nourish your body with the wholesome goodness that's just around the corner. At Mobia Food, we take pride in delivering not just products but experiences. Our wheatgrass smoothies are a testament to our commitment to quality, taste, and well-being. Join us in this journey of flavor, health, and happiness.
Ready to Sip into Wellness?
Explore our range of wheatgrass smoothies and take the first step towards a healthier lifestyle. Whether you're looking for a burst of nutrients, a keto-friendly option, or a refreshing treat near you, Mobia Food has the perfect wheatgrass smoothie for you. Cheers to good health!